2015 Annual Meeting of the North Carolina Chapter
of the American Fisheries Society
---
Courtyard Marriott Carolina Beach
Carolina Beach, NC – February 24-25, 2015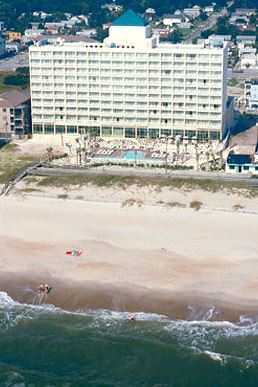 Join us at the 2015 NC AFS Chapter Meeting in February, 2015.  Our host will be the Courtyard Marriott, located at 100 Charlotte Avenue, Carolina Beach, NC,28428.

2014 Business Meeting Minutes

With thanks to Todd Ewing, our current Secretary/Treasurer, the minutes from the 2014 NCAFS Business Meeting are available for member review prior to acceptance at this year's meeting.  Click here to read and download.
Abstracts
Student and professional members will be invited to submit abstracts for oral presentation at the Annual Meeting. Topics addressing any aspect of fisheries and related aquatic sciences are welcomed, including, but not limited to, management, research, conservation, outreach and education.  Presentations will be limited to 20 minutes (including a question & answer period).  The abstract submission deadline is January 23, 2015.
Abstracts are limited to 250 words. Abstract title should appear in all caps and bold, and be followed by the author name(s), and affiliation(s). Please underline the name of the presenter and include contact information with email and phone number. If the presenter is a student, please note this on the submission. Abstracts should be written in Word utilizing Arial 11 point font. Abstracts should include clearly stated objectives, brief methods, general results, and the basic conclusion. Please list several keywords at the end for future search capability.  See examples from past meetings.
Judges will be scoring all presentations for awards in both the professional and student categories.
Lodging and Reservations
Sleeping room rates are $65.90 plus 13% sales tax (if applicable) per night for a standard room for up to four people.  Reservations must be made by February 10, 2015.  To receive the special rate when calling in, be sure to mention the code "AFSR."

Continuing Education Course
Crayfish 101: An Introduction to Crayfish Biology and Identification
Instructors:  Tyler Black and T.R. Russ, NC Wildlife Resources Commission
Course Capacity: 40 participants
Approximately two-thirds of the world's crayfish diversity occurs in North America; however, basic ecological and distributional knowledge is lacking for most crayfishes.  Unfortunately, researchers often overlook these keystone species because of taxonomic bias, general lack of interest, and difficulties associated with identification.  Thus, the goals of this workshop are to introduce participants to crayfish biology and to teach the skills needed to identify crayfishes from North Carolina and beyond. We will start with a lecture format to discuss life history, ecology, taxonomy, and morphology of North Carolina crayfishes.  Then, we will provide participants with the opportunity to identify specimens, including discerning native from nonindigenous species, during a hands-on session.
Presentation Scoring Criteria (NEW!)

Presenters:  To assist you in putting together an award-winning presentation, below are the judging criteria for both professional and student papers.  You may also download a .pdf version of the scoresheet.
In a 5-point category, judges award 3 points for average quality (even though average quality may be very good), 4 for above average, and 5 for outstanding.
A. Individual Components (5 points for each)
Title – Does it accurately describe the subject?
Introduction – Does it provide adequate background, historical context, and justification for the study?  Were the objectives and purpose clearly stated?
Methods or Approach – Are they described with sufficient detail?
B. Content
Structure and Organization (15 points) – Is there logical development and integration of the presentation?  Is the presentation comprehensible by members of the audience not engaged in that particular specialty?
Originality (10 points) – How valuable is the presentation in communicating and presenting unique or innovative methods, concepts, or interpretations? How relevant and significant is it to fisheries science?
Analytical Merit (10 points) – Are the analytical methods and study design or approach adequate and appropriate?
Technical Merit (10 points) – Are interpretations consistent with the results or evidence presented?  Are limitations identified and evaluated?
C. Physical Presentation
Delivery (15 points) – Does the presenter employ good voice quality, enthusiasm, grammar, eye contact, posture and body language, pronunciation, and articulation?
Visual Aids (15 points) – Are the visual aids large enough, simple, understandable, relevant, and attractive?
Timing (5 points) – Does the presenter complete the talk within the allotted time, and leave time for questions?
D. Other Considerations (5 points)
Use this category to reward unique or attractive features which do not fit exactly into other criteria (e.g., judicious and effective use of humor).  It should be considered an extra and should not be awarded automatically.
E. Comments
Provide a

brief

evaluation of your impressions of each presentation.  Comments will be used to break ties.
---
---