Fisheries Magazine – August 2015
Want to Receive Fisheries Magazine Every Month for Free?!
Become a member of the Society! Why?
Membership helps the North Carolina Chapter!
& the benefits are great! How?
Society Membership:
• provides your Chapter rebates • helps process your chapter refunds • assists with chapter membership queries
Your Benefits? Plenty!
Society Membership means you'll:
• receive Fisheries magazine each month • enjoy special savings on subscriptions to AFS published books
• subscribe at member rates to the four preeminent, peer-reviewed AFS journals • enjoy special savings on meeting registration
• join fisheries-related sections that cover your academic and professional interests • apply for official certification as a Fisheries Professional, a process available only from AFS • receive help when you publish with AFS
The Society needs your support. Won't you join us today? Click to learn more!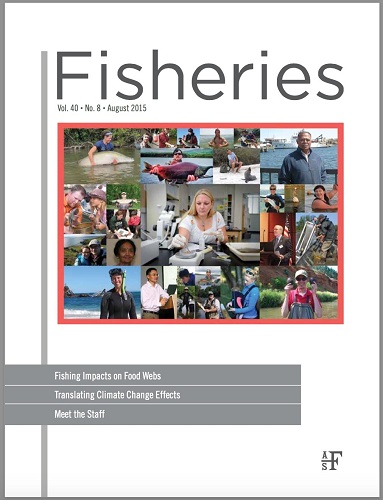 POLICY
Wetlands Thrive on Connectivity
Thomas E. Bigford
MEMBER VOICE
Value Added by Being a Member of a Professional Society
Sean Lucey
AFS NEWS
The Sordid Trail of an AFS Response to New York Times Op-Ed Piece
Douglas Austen
AFS Responds to an Op-Ed in the New York Times on Trout Fishing in the Northeast US
NOAA Fisheries At-Sea Volunteer Opportunities: Hands-On, Hard Work, and a Great Experience
Shelley Dawicki
INTERVIEW
Q&A: The Success Story of the Oregon Chub: An Interview with Paul Scheerer
Bob Hughes
ESSAYS AND FEATURES
Fishing Down Through the Food Web
Villy Christensen
Fishing Impacts on Food Webs: Multiple Working Hypotheses
Trevor A. Branch
Are We Catching What They Eat? Moving Beyond Trends in the Mean Trophic Level of Catch Konstantine J. Rountos, Michael G. Frisk, and Ellen K. Pikitch
Characterizing the Human Dimensions of a Hidden Fishery: Riverine Trotline Fishers
Benjamin D. Dickinson, Donald J. Orth, and Steve L. McMullin
Translating Climate Change Effects into Everyday Language: An Example of More Driving and Less Angling
Jefferson T. DeWeber and Tyler Wagner
Finding the Path to a Successful Graduate and Research Career: Advice for Early Career Researchers
Bryan M. Maitland, Steven J. Cooke, and Mark Poesch
… and more!
---
To access the June 2015 Fisheries magazine :