Fisheries Magazine – July 2015
Want to Receive Fisheries Magazine Every Month for Free?!
Become a member of the Society! Why?
Membership helps the North Carolina Chapter!
& the benefits are great! How?
Society Membership:
• provides your Chapter rebates • helps process your chapter refunds • assists with chapter membership queries
Your Benefits? Plenty!
Society Membership means you'll:
• receive Fisheries magazine each month • enjoy special savings on subscriptions to AFS published books
• subscribe at member rates to the four preeminent, peer-reviewed AFS journals • enjoy special savings on meeting registration
• join fisheries-related sections that cover your academic and professional interests • apply for official certification as a Fisheries Professional, a process available only from AFS • receive help when you publish with AFS
The Society needs your support. Won't you join us today? Click to learn more!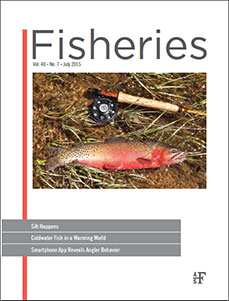 Policy Column
• Silt Happens…Literally
Guest Column
• Point-Counterpoint: Be Flexible in the Number of Talks per Speaker at Meetings!
AFS News
• The 63rd Annual Business Meeting of the Northeastern Division
Student Angles
• The 2013–2014 Fenske Fellowship: Learning the Ins and Outs of Lake Whitefish Management in the Upper Great Lakes
• West Virginia University AFS Student Subunit Leads a Citizen Science Program
Journal Reviews
• Bluegill Can Be Managed More Effectively with Bag Limits!
• Probiotics Show Promise for Aquaculture
• More Evidence That Plant-Based Feeds Can Support Sustainable Aquaculture
• Using a Video Lander to Assess Difficult Marine Habitats
• Support Solutions to California's Drought Issues: Modeling Suggests Ways to Conserve Chinook Salmon in the Face of Water Diversion
PEER
• Climate Change Adaptation and Restoration of Western Trout Streams: Opportunities and Strategies
• Adaptación al cambio climático y restauración de los ríos occidentales para la trucha: oportunidades y estrategias
PEER
• Smartphones Reveal Angler Behavior: A Case Study of a Popular Mobile Fishing Application in Alberta, Canada
• Teléfonos inteligentes revelan comportamiento de pescadores: el caso de estudio en Alberta, Canadá, de una aplicación para teléfono móvil
… and more!
---
To access the June 2015 Fisheries magazine :