Navigating the New Look of NCAFS Online
Welcome to our new website!  The impetus for our renovation came from the Parent Society of AFS, as they seek to provide increased communication and interaction not only between Chapter members, but among  Chapters, Divisions, and AFS itself.  It is a work in progress, with even more features to come, but already launched are several advances that aim to make the site both more useful to members and to make interaction and distribution of information faster and easier.
What's Familiar?
Users of past versions of our website, which was pioneered by NCWRC Biologist Jerry Finke and carried on with dedication by current NCAFS President Kim Sparks, will recognize many elements that have been carried forward in the top menu, including details of our Executive and other Committees (now found under "Who We Are"), information about our next Annual Chapter Meeting, descriptions of Chapter Awards and past winners, Newsletters and Archives, and a history of past NCAFS meetings.
In addition, the left sidebar on each page still contains links to all relevant levels of our partners in AFS, including student sub-units, and a quick link to our most recent newsletter.  In the Home page footer, you can also find a link to our Facebook page, as well as a subscription link to the live feed (the orange fish!) from our News & Updates page, which can be linked to Microsoft Outlook.


What's New?
Some of the most significant additions can also be found in the top menu bar.
One, "Conferences To Watch," will take you to a running calendar of a variety of upcoming meetings that  may be of interest to members.  Check often for updates!  Each listing will include a link to the meeting page, putting the information at your fingertips.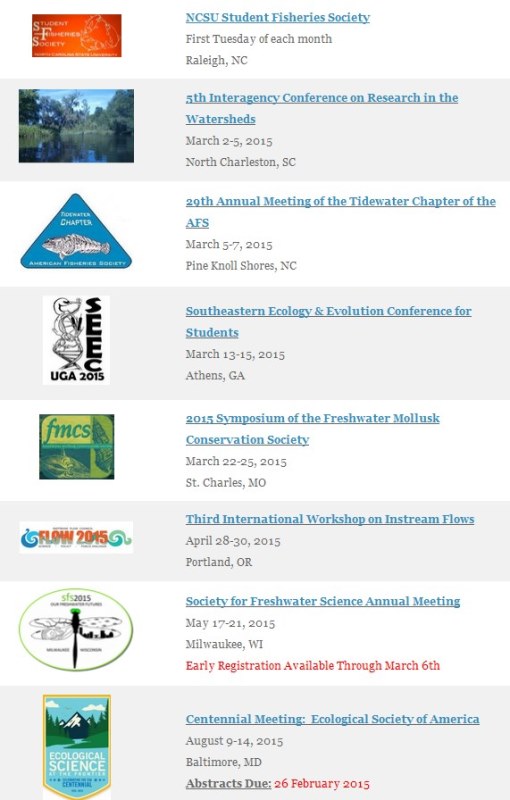 You will also see "News & Updates."  This page contains a live feed, where short notices of interest, time-sensitive articles, and our Chapter newsletters will be posted, with a clickable Table of Contents, for perusal at your leisure without requiring a download.  However, the traditional .pdf version of the NCAFS newsletter will still made available through a prominent link included with each version.   Also included as a "sticky" post which remains at the top of the page, is a page where you can follow our Facebook updates without having to leave the website.  You do NOT need to be a Facebook member or have an account to view any of our posts; they are all public for your enjoyment!
This news feed is also a place where members can contribute information, through a submission link found in the footer of our homepage.  We've even saved you from death by carpal tunnel — in the bottom right-hand corner of every page, you will see a box slide into view that allows you to return to the top of the page with a click instead of wearing out your scroll wheel.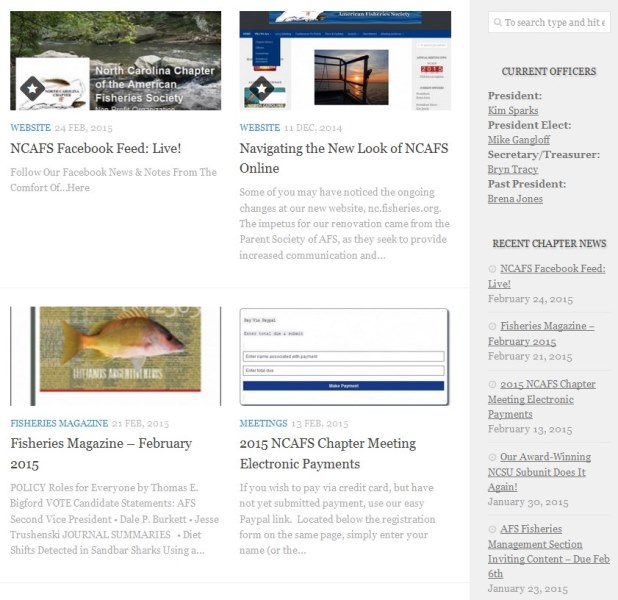 Another handy feature is the ability to embed the live feeds from both the Southern Division of the AFS and a quick front-page summary of our own updates (in the right sidebar), making the latest news instantly visible as soon as you land on the homepage.  The left sidebar also hosts an opportunity to help improve mountain aquatic habitats through the purchase of the new brook trout license plate.
Last, but most certainly not least, is the integrated ability to become a member of NCAFS (or renew an existing membership) with one click, including the ability to submit payment directly from our website through the secure servers at Paypal.  You can do the same for Annual Meeting registration, making obsolete the need to fill out long forms on separate pages or duplicate information.
We thank you in advance for your patience during changes, but hope you will enjoy our new features.  Should you have any questions, suggestions, or concerns, you will find a link to an easy contact form at the foot of every page.